Today I left something undone that I wish I had done – though perhaps others may say I'm foolish to think so.
I was driving into the Dandenongs (a local mountain range) and had turned into a road that winds its way for about 10 minutes by car up the mountainside towards the town of Sassafras.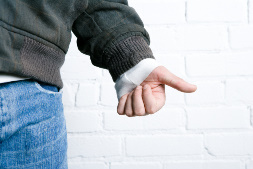 Just around the corner, before this road begins to twist and climb in earnest, I saw three young lads trying to hitch a ride.  Probably in their late teens or early twenties, all with short hair and casually dressed in t-shirts and jeans. That's all I could tell from the quick glimpse I caught of them as, even while my foot hesitated over the brake pedal, I drove on by.
And basically that's the end of my story.
I can hear you all now:
"But of course!"
"Sensible woman!"
"You did the right thing."
"Three young men? You'd have been stupid to stop."
A chorus of reason and common sense? Yes, that's true.
But what if I'd hit the brake instead of the accelerator? A different story plays in my head … [Read more…]