I've been reflecting on some of the archetypes prevalent in our society, particularly in relation to 'mythological' connections. Even more specifically, in relation to the pantheon of gods in Greek mythology.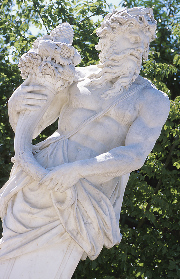 If we have any mythological connection at all these days, it seems to be with spirits of Apollo (the god of reason and the clear light of day) and Prometheus (the god of production, crafting and technology).
These, if any, are the gods we honour and the myths we live by. Many – if not most – of the other gods are relegated to our community shadow.
Drawing on Jung's psychological theories, delegation of any quality or trait into the shadow part of the psyche will cause its influence to explode elsewhere in more unconscious and damaging ways.
The gods we dishonour make their influence felt in pathological ways, and leave us off balance and out of harmony with our place in the world.
Just as the ancient Greeks knew that a balanced life involved honouring a pantheon of different gods, we need to invite other forces and myths back into our society to regain our balance.
A good start might be to re-establish our connection with the qualities of Eros or Dionysos. The positive aspects of these gods are among those crucial to our successful negotiation of our path forward in this modern world.
The myth of Eros is that of creativity – the life-impulse. He is the god of relationship, and we experience him in both the pain and delight of real intimacy. Bringing more of the Eros influence into our organisations and social structures implies improving relationships and interconnectedness.
What's more, Eros 'pathology' – the shadow aspect of Eros – is certainly evident in many areas of our society, in its levels of irresponsibility, self-indulgence, and rampant individualism. Eros is the puer or eternal youth, and unless consciousness recognises and honours this element, unconsciousness can produce an unwillingness to grow up.
Dionysos brings fun, impulse, ecstasy and the irresistible irrational into our lives. He is the 'great loosener'. Eccentricity, improvisation, personal satisfaction, joy, ecstasy, choice, and laughter are all the realm of Dionysos. He is the god who warns us against taking ourselves or life too seriously – and can provide a much needed balance to the 'heavier' aspects of Apollo and Prometheus.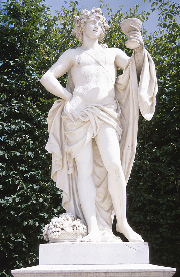 Dionysos' imprisonment in the shadow is revealed in many pathological expressions of his influence in our society. Where people seem to be achieving personal satisfaction or goals at the expense of those around them, where eccentricity is carried way beyond the bounds of social acceptance, or where the search for joy, fun and excitement turns to self-harm – in all these and more we see Dionysos shouting for recognition.
Perhaps the drug 'Ecstasy' was not named by accident – it is a very appropriate symbol for the destructive powers of Dionysos dishonoured!
In the end, Eros, Dionysos and all the other gods will need to be invited to join Apollo and Prometheus as the guardians and designers of our modern destiny. Without them our development – and our psyche – remains out of kilter.