Whether you've arrived here from one of my social media profiles, via our BJ Seminars International website or through some other random act of web wandering, this page will tell you a little about this blog and about me.
My Blog
Although linked to the work I do, this blog is a very personal web space in which, as its title suggests, I'll share stories and reflections that move or inspire me on my journey through learning and through life.
Where I Live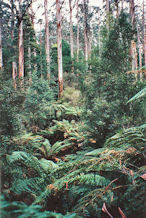 My home is in a lovely area called Ferntree Gully at the foothills of the Dandenong Ranges in the outer-eastern suburbs of Melbourne, Australia. "The Dandenongs" is one of my favourite places to rest and relax.
Sherbrooke Forest with its fern gullies, tall mountain ash and gum trees and native wildlife is always refreshing to the spirit. The Friends of Sherbrooke Forest do a sterling job making sure the forest remains free of those pesky flora and fauna "furriners" that are such a danger to the native varieties.
In my time out, I also love taking friends "up into the hills" for afternoon tea in one of the many picturesque cafes or restaurants – perhaps one of the Devonshire teas for which the hills are famous. Mind you, the hills can be a place to avoid at weekends when all "those darn tourists", as the locals call them, are in a Dandenongs mood!
What Inspires Me
People – their creativity, wisdom, strengths and resilience as well as their follies and foibles – have always fascinated me, ever since I was a child. I have always enjoyed the challenge of learning new things myself – and for me the key to this has been the interactions I've had or relationships I've developed with other people.
I also have an abiding passion for stories – both the listening and the telling of them.
A human being is nothing but a story with skin around it. (Fred Allen)

Those who do not have power over the story that dominates their lives, the power to retell it, rethink it, deconstruct it, joke about it and change it as times change, truly are powerless, because they cannot think new thoughts. (Salman Rushdie)
For me, stories help us understand the world and our place in it, help us to connect with others, and make meaning from our experiences. They have the power to challenge assumptions or paradigms, heal wounds and lift and inspire the soul. As I said in an article I wrote a while back, called The Gifts of Story:
Good storytelling is music for the soul.

Tell me the facts and I may nod my head and say "That's very interesting". But tell me a story that resonates with me and I will be stirred to movement. I will walk with you, work with you, or raise my voice with yours. I'll be inspired to change, grow, or shape my life differently because listening to your story helps me re-story my own.

This is the magic, the alchemy – and the most precious gift – of storytelling.
I also have a deep commitment to genuinely collaborative approaches – which can indeed be hard to achieve! True collaboration is a mind-set as much as a map, a philosophy as much as a place – and I believe collaborative work is a "way of being" rather than a set of "how-tos"
I'm also passionate about possibilities; some might call me an incurable optimist, but I prefer to think of myself as an "upbeat realist". It's what I call the "feet on the ground and head in the clouds balance".
It's about working with the day-to-day practicalities of what is achievable right here and now in this time and place while also keeping our vision set on what may be possible in the future. (I like the Robert F Kennedy quotation for example – "There are those who look at things the way they are, and ask why… I dream of things that never were, and ask why not?")
I love the serendipity of seeing patterns and connections between apparently unconnected ideas or situations. I suppose in a way I tend to see the world first through a kaleidoscope before I turn to the view through a telescope or microscope.
My Work
Perhaps, given the above, it's no wonder my career path has included teaching, youth work, family mediation and designing and managing projects to build cross-sectoral collaboration. My professional journey has brought me now to my work as a facilitator, speaker and storyteller, in partnership with Chris Bennett, as BJ Seminars International.
Rather than saying more here about what we do, I'll point you our our BJ Seminars International website where you'll find more information.
Paradox & The Mandorla
A 'mandorla' is a symbol of intersecting circles – the one that forms the top part of our BJ Seminars International logo. It has a very personal as well as professional significance for me. I first came across this symbol long before I knew its name or its historical significance, as it has been used as the design of the cover of Chalice Well in Glastonbury, England, from where my father's family came.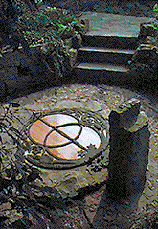 In two separate trips some years ago to the UK, I visited Glastonbury and fell in love with the Chalice Well Gardens. Because of this, my father had a special pendant made for me from the design of the Chalice Well cover, which I have worn ever since.
Some time later, I came across the symbol's historical meaning. The symbol is called a "mandorla", related to the Italian word "mandel" meaning "almond" – the almond shape created when two circles intersect.
It's a very ancient symbol, honoured and used through many traditions to represent the interdependence of two different worlds or energies.
Traditionally it has also symbolised the pairing of opposites – light and dark, positive and negative, life and death and other paradoxical pairs.
We find different worlds, different energies and paradox whenever any group of people come together. There will always be vastly different or directly opposing world-views, opinions or perspectives.
To make progress together, everyone must move beyond adversarial thinking to cooperative thinking – and if possible, to truly collaborative thinking.
To do so, it is important for us to engage with and accept differences long enough to allow new ideas or solutions to emerge that can meet the needs of everyone involved.
The mandorla symbolises this process. The almond-shaped intersection of the circles represents that space in which we wait to sit comfortably with an apparent paradox. A space where we are, for the time being, simply accepting the existence of opposite energies or perspectives without the need to decide between them.
If we wait long enough, we find the tension between them tends to be transformed into a different way of thinking.
We can "invite all voices into the room".
We can move beyond "either-or" to "and".
And we can move beyond "I and you" to "we".