Ever thought of using colours to describe your day? I've been playing with the idea and I've realised there's a huge palette of shades from which to choose and every colour has at least two faces.
BLUE days can be sad days – when I'm 'feeling blue'. But they can also be days that reach as high as the bluest of skies, in which I'm flying after my dreams.
RED days can sometimes be like huge, red STOP signs. Days when warning signals in my body or frazzled brain tell me I'm overstretched and need to take time out.  But they can also be days when I'm alight with red hot passion to change the world and the 'fire in my belly' is well and truly ignited!
What about BLACK days? Some of those are full of 'grrrrr' moments and dark thoughts. It doesn't have to be a day of major disasters. Even a string of small frustrations can certainly add a charcoal tinge! But some 'black days' can be like the velvety blackness of a silent, moonless night. Those are days when the hustle and bustle of the world has faded away and I find time and quiet space for reflection.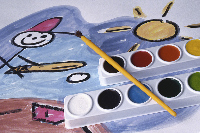 Not only these three, but many more colours of the spectrum are woven into life's rich tapestry. And each colour also has its 'upbeat' and 'downbeat' aspects.
As I think about that, I realise both faces of every colour are equally important and often interdependent.  The bright blue of my dreams can sometimes be tinged with the more sombre hue of sadness or disappointment. A period of passionate, 'changing-the-world' days can take so much energy, that I'm brought up short by one of those warning stop signs and need time to rest and recover.
Athough it's sometimes hard at the time to appreciate the darker days – to see the gifts they bring – they are also a blessing.
As Kahlil Gibran once said:
Your pain is the breaking of the shell that encloses your understanding. Even as the stone of the fruit must break, that its heart may stand in the sun, so must you know pain.
So I need those darker days too, if my heart is to 'stand in the sun'.
Perhaps with the colour of my days I can paint the picture of my life. But I need all those subtle differences in shading – from light to dark – to give the whole picture dimension and depth.