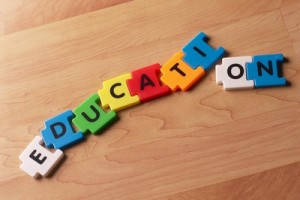 As an ex-teacher, I'm still passionate about education – about what needs to happen in our schools to make them safe, vibrant and successful learning spaces for both students and teachers.
I've written about this before in other blog posts: The More Things Change (a personal reflection on my own teaching experience) and A Passionate Plea (in which I reflect on the similarity between many school and prison, but also highlight examples of inspirational schools doing things differently).
One aspect of many schools that I believe needs to change is their disciplinary policies and strategies. Much of the action that's taken in response to poor behaviour from students is less than effective – frequently not effective at all!
It's a fact that poor or 'unacceptable' behaviour – from swearing and fighting through to not completing homework or being out of uniform – rarely has anything to do with what's happening at school but everything to do with what is happening in that student's life outside school. Good teachers know this. The best teachers act on it.
So it was with delight I read about yet another example of a school that's 'getting it right'. :)
It's Lincoln High School in Walla Walla, Washington State, USA, where the Principal has led a 'revolution' in school discipline, focusing on resilience.
Jim Sporleder, principal of Lincoln High School, had always taken a compassionate approach with students, but realised this wasn't enough.
As says in a blog post where he outlines this new approach:
Before I learned about how toxic stress impaired a student to problem-solve or to take in new knowledge, I disciplined students in what I thought was a respectful approach. I took time to listen, I shared with the student why his or her behavior was inappropriate, and then I gave what I thought was a consequence that matched the infraction … I used to have a saying: "Discipline teaches; punitive discipline hurts". I've had a history of being a relationship guy, and I have always interacted with students fairly and built positive relationships.

Two years ago I was introduced to the ACE Study and how toxic stress blocks the brain's ability to process information. The student is in a fight or flight mode. This is when I took a hard look at my discipline philosophy and accountability and realized that I had been working with students who had toxic stress in a way that just didn't work. Yes, I had to look in the mirror and say, "Jim, you are wrong, and you need to change".
And how did he change and change the school?
I told them I was committed to making this a safe place, a place of learning and a place where they felt cared for.

At Lincoln it started by building relationships. We made changes on how we communicate on a personal level with students. We prove we are trustworthy through transparency. We set a goal to have a safe and welcoming learning environment.
Still sceptical? The results of this new approach at Lincoln High School have proved themselves over and over again, including an 85% reduction in suspensions and:
As a result the culture of our school has dramatically improved. I see the success in students every day in our classroom and in our community. When young people are able to process their emotions there's more time for learning. We have a healthier environment where students aren't afraid to take risks.
Watch the video below and be inspired! Jim's blog post is also well worth reading!