I've just finished reading Iran Awakening, by Shirin Ebadi, winner of the 2003 Nobel Peace Prize.
Subtitled A Memior of Revolution and Hope, it is an inspiring read!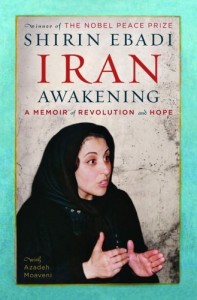 As I read, I was struck by the way in which Shirin Ebadi 'holds the centre' – that sometimes painful space where we stand in the centre of contradictions and paradox, yet resist the always present temptation to 'take sides' – to retreat to the more 'comfortable' space of certainty that one 'side' is more correct or more true.
As a lawyer and a speaker, she works tirelessly in the name of justice and she is certainly 'on the side' of justice and fairness in all respects – that much is evident.
But, although she abhors the injustices done to people by the various governments of Iran as well as those perpetrated by US intervention in her country, she nevertheless manages to remain 'at the centre'.
[Read more…]