Last weekend I returned to a place I'd not visited in almost ten years.
Brunton's Bridge is a glorious spot on the Thompson River in Victoria. It lies about 12 kilometers of dirt road beyond an old and now beautifully renovated/rebuilt mining town called Walhalla.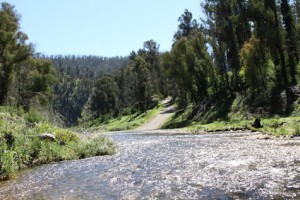 My partner, Glenn, died at the end of June in 1999 and the last time I had travelled to Brunton's Bridge was the following December, when members of his family and I camped there overnight to scatter his ashes. He and I had shared life's journey for 11 years and we'd often gone camping there. It was one of his favourite places to spend time, relaxing in the peaceful bush setting.
Glenn took his own life, so the months afterwards had been very hard for all of us.  We'd have gone with his ashes to Brunton's Bridge earlier – but none of us had a four wheel drive vehicle, and that rough dirt road had been too muddy and dangerous for our cars until summer arrived that year to dry it out.
As it happened, this was no doubt a good thing. Six months after Glenn's death we were readier to take that final journey with him.
Here is a poem I wrote at the time: [Read more…]