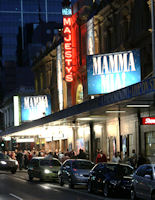 I love our city of Melbourne.
I don't live there .. I choose to live way out of town. Not actually in a rural area, as I'm in the outer eastern suburbs. But I love my little corner of the world at the foot of the Dandenong Ranges, where I'm surrounded by trees, possums use my garden fences as their thoroughfare and I wake to the sounds of magpies and kookaburras each morning.
However I also adore visiting the city, a busy, bustling feast for the senses. It's a fabulous smorgasbord of sights, sounds and smells. A colourful cornucopia that is ever changing, always fascinating.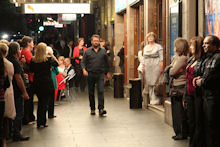 I especially love the pastime of people-watching. Such variety and diversity to absorb!
I was in town on Saturday night, heading for a show at the Melbourne Comedy Festival.
And, as always, the walk to the venue is almost as enjoyable as the show itself! My people-watching hobby can go into overdrive. The noisy, glittering crowd becomes a series of snapshots …