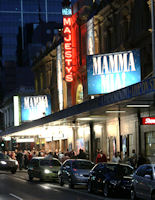 I love our city of Melbourne.
I don't live there .. I choose to live way out of town. Not actually in a rural area, as I'm in the outer eastern suburbs. But I love my little corner of the world at the foot of the Dandenong Ranges, where I'm surrounded by trees, possums use my garden fences as their thoroughfare and I wake to the sounds of magpies and kookaburras each morning.
However I also adore visiting the city, a busy, bustling feast for the senses. It's a fabulous smorgasbord of sights, sounds and smells. A colourful cornucopia that is ever changing, always fascinating.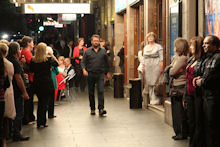 I especially love the pastime of people-watching. Such variety and diversity to absorb!
I was in town on Saturday night, heading for a show at the Melbourne Comedy Festival.
And, as always, the walk to the venue is almost as enjoyable as the show itself! My people-watching hobby can go into overdrive. The noisy, glittering crowd becomes a series of snapshots …
Over there is an elderly couple, holding hands as they cross the road. They're not able to walk very fast and I can see their heads swivelling this way and that as they walk, perhaps fearful the traffic lights will change before they make it across.
On the other side of the road a young woman is hastening, possibly to meet friends, and struggling in her extremely high heels. She's wearing a very small, very tight skirt, which is obviously providing her with some challenges because as she hurries along she's constantly hitching it down to make sure it covers her behind. She must be headed to a night club; she's certainly dressed to kill, not for comfort!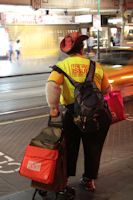 And on the corner near me is one of Melbourne's unemployed folk, eking a few dollars from selling copies of The Big Issue magazine. He makes a colourful splash, with his bright yellow t-shirt, red hat and red carry bags.
Every person has a story. Though of course I don't know what any of those stories might be, sometimes I play at making them up for myself – laughing inwardly at my own absurdities.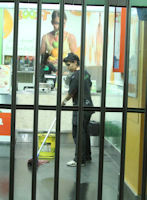 All of these folk are going about their own business, hurrying or strolling along the streets under the city's lights. We pass shops that are still open and others that are closed, either with darkened windows or brightly lit interiors where chairs are being put up on the tables or floors are being mopped, making all ready for the next day's trading.
Trams rumble past, ringing their bells at intervals. Cars of all shapes, sizes and colours pass by slowly – there's really no fast way to drive through the city by day or by night. As well as these modern transports, horses trot by pulling carriages or wait patiently by the curb while their drivers tout for tourist dollars.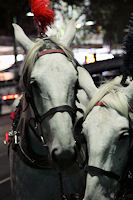 I find myself remembering my nephew's story of how he proposed to his girlfriend one Moomba weekend in just such a carriage.  At the very moment she said "Yes" the Moomba fireworks began – he couldn't have timed it better if he'd tried! :)
On this particular Saturday night, Chris had his camera with him. I've taken some of his photos and put them into a flash presentation: A Night on the Town.  It does take a few moments to load, but you may think it's worth the wait. :)
From my perspective, Melbourne has so much to see and so many delights. It's a glorious city.