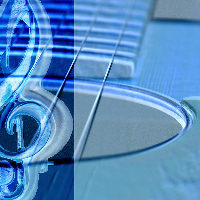 This morning I heard the snatch of an old 70s song on the radio, and I was 18 again, in my first year at University – exploring new horizons, making new friends and mourning the loss of an early love.
Music holds a sure magic. It transports us through time, connects us with other people, helps to heal wounds, makes us laugh, makes us cry and feeds the soul. And there are some tunes that, when we hear them, take us back to a certain time or place with crystal-clear vividness.
My own earliest memories include my mother's voice singing old English ballads to send me to sleep. Songs such as Oh, No John, No John, No John, No, Cockles and Mussels, and The North Wind Doth Blow.
My father was a trad jazz fan, and played the piano. Never professionally, but with a passionate love of music that stayed with him throughout his life. So my other early lullabies were tunes like Tiger Rag, St James' Infirmary Blues and many more. And the first song I remember learning to sing as a small child was Ragtime Cowboy Joe!
[And what a delightfully quirky collection of videos I found on the web, when searching for links to all those songs. :-) ]
Indeed, music was so much a part of my dad's life that even the stories he told of the six years he spent in the British Navy in WWII were often centred around the times he got to play the piano.