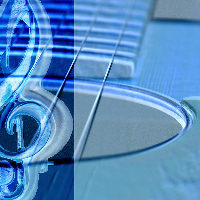 This morning I heard the snatch of an old 70s song on the radio, and I was 18 again, in my first year at University – exploring new horizons, making new friends and mourning the loss of an early love.
Music holds a sure magic. It transports us through time, connects us with other people, helps to heal wounds, makes us laugh, makes us cry and feeds the soul. And there are some tunes that, when we hear them, take us back to a certain time or place with crystal-clear vividness.
My own earliest memories include my mother's voice singing old English ballads to send me to sleep. Songs such as Oh, No John, No John, No John, No, Cockles and Mussels, and The North Wind Doth Blow.
My father was a trad jazz fan, and played the piano. Never professionally, but with a passionate love of music that stayed with him throughout his life. So my other early lullabies were tunes like Tiger Rag, St James' Infirmary Blues and many more. And the first song I remember learning to sing as a small child was Ragtime Cowboy Joe!
[And what a delightfully quirky collection of videos I found on the web, when searching for links to all those songs. :-) ]
Indeed, music was so much a part of my dad's life that even the stories he told of the six years he spent in the British Navy in WWII were often centred around the times he got to play the piano.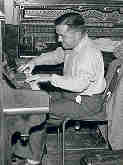 Dad joined the Navy at the start of the war and trained at HMS Ganges, in Suffolk, England.
In early 1940, after France surrendered, he was one of  thousands of men manning the trenches all summer along the east coast of England, anticipating a Nazi invasion.
In January 1941 he joined the crew of HMS Prince of Wales. He was part of the hunt for the Bismark and watched HMS Hood go up in flames. He sailed with the convoys that carried out the 'relief of Gibraltar' and took Churchill to meet with Eisenhower, mid-Atlantic.
When the Prince of Wales was sunk off Singapore in December 1941, he lost many of his friends and shipmates. He then spent the rest of the war in Mombasa, Colombo and Calcutta as a radio mechanic, helping to build high-frequency direction-finding stations – very hush-hush at the time!
All historical events – but my dad's place within them was so very often linked to his beloved music. Indeed, I think it's this for which Ray "Jimmy" James was best remembered by all his mates. War Music , housed on the Force Z Survivors' Association website, is my dad's story of those years told in his own words.
In all the following years, music was an abiding theme of my dad's life. And, although he remained committed to his love of jazz, he was even prepared to listen to and appreciate all the weird and wonderful music his two daughters were determined to introduce to him. :-)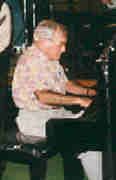 Memory lane can be a surprising path to travel. I began this journey of reflection thinking about music that was part of my own early years.
I didn't realise I'd end up taking a turn along the way that would lead me to focus more on my dad than on my own musical memories.
But as that's where I now find myself, I'll also share a few tunes for those who may be interested to listen to them.
My dad and a few friends recorded 19 tracks together in 1999, a couple of years before he passed away.
And for those who would like to know who the musicians are:
Patsy O'Neil, Vocals
Ray James, Keyboard
Ian Arnold, Reeds
Bruce Millar, Bass
Neil Williams, Drums
So here's a selection for any trad jazz fans out there – as well as for any others like me for whom these tunes hold memories.
Wait after "Lady Be Good" for an extra 'boogie surprise' at the end. :)
I still miss my dad. But his spirit remains with me through my memories – and his music.
What musical memories do you carry with you from your own journey through life? I'd love to hear from you if you'd care to comment!