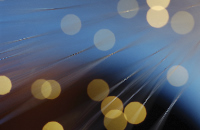 I was going through some old files and came across a poem I wrote a number of years ago about the joy of chance encounters.
It was written after a touring holiday, during which we stopped in a small country town called Carcoar in New South Wales.
Intending to stop for just a short break – to stretch our legs and enjoy the scenery – we came across a wee art gallery. A 'brief chat' with the artist became a fascinating four hour conversation with him and a friend of his!
A place called Carcoar.
A meeting of strangers
yet a meeting of minds.
We talked,
the four of us,
and the air vibrated
with ideas.
Travelling, teaching,
theology, philosophy –
much more was discussed,
much given and gained.
My head was buzzing
from excitement and learning,
and I felt within me
a deep satisfaction.
To experience such growth
unexpectedly
is one of life's greatest
serendipities.
A chance encounter indeed – we never met again, and I no longer remember their names.
But the experience remains as a  bright memory, filled with warmth, colour and the serendipity of discovery.
Such unexpected encounters are indeed jewels woven into the fabric of our lives.