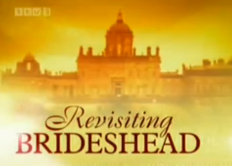 I've recently finished re-reading Brideshead Revisited by Evelyn Waugh – and re-watching on DVD the 1981 BBC TV series, produced by Granada Television.
Brideshead Revisited is probably Evelyn Waugh's best-loved novel, first published in 1945.
It's the epic story of a great Catholic family in a doomed aristocratic age prior to the second world war and over sixty years has delighted many readers – including myself .
In haunting prose it captures the dying years of an era of British aristocracy and opulence, which would never again return after the war. Another major theme, as Waugh says in his preface (1959) to a modified re-issue of the novel, is "the operation of divine grace on a group of diverse but closely connected characters."
In the book there are many passages of lilting prose – somehow wistful and with a lingering melancholy. And in re-reading, I experienced all over again my initial delight.
Here's an example …
Oxford, in those days, was still a city of aquatint. In her spacious and quiet streets men walked and spoke as they had done in Newman's day; her autumnal mists, her grey springtime, and the rare glory of her summer days – such as that day – when the chestnut was in flower and the bells rang out high and clear over her gables and cupolas, exhaled the soft airs of centuries of youth. It was this cloistral hush which gave our laughter its resonance, and carried it still, joyously, over the intervening clamour.
Or another passage …
My theme is memory, that winged host that soared about me one grey morning of war-time. These memories, which are my life—for we possess nothing certainly except the past—were always with me. Like the pigeons of St. Mark's, they were everywhere, under my feet, singly, in pairs, in little honey-voiced congregations, nodding, strutting, winking, rolling the tender feathers of their necks, perching sometimes, if I stood still, on my shoulder or pecking a broken biscuit from between my lips; until, suddenly, the noon gun boomed and in a moment, with a flutter and sweep of wings, the pavement was bare and the whole sky above dark with a tumult of fowl. Thus it was that morning.
And a  third …
Conversation should be like juggling; up go the balls and the plates, up and over, in and out, good solid objects that glitter in the footlights and fall with a bang if you miss them. But when dear Sebastian speaks it is like a little sphere of soapsud drifting off the end of an old clay pipe, anywhere, full of rainbow light for a second and then – phut! vanished, with nothing left at all, nothing.
The Granada TV series faithfully reproduced many passages from the book, either as a voice-over or in characters' dialogue.  It was so true to the novel, that I'm reluctant to watch the more recent movie of the same name.
I can't see how the rich tapestry of the novel, so beautifully captured in the 1981 series, could be portrayed on only an hour and a half – though am open to be contradicted on that score.  Perhaps I should indeed watch the 2008 movie to compare – though am afraid I'll be disappointed. :)