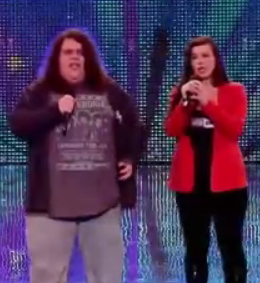 Three years ago, back in 2009, I wrote a blog post called Beauty, when Susan Boyle wowed the world with her singing on Britain's Got Talent.
Her performance gave the world not only her glorious voice but also a sobering lesson about prejudice and about the folly of judging people by their outward appearance.
We might have hoped the judges and the BGT audience had learned that lesson and would never make such snap judgements again.
But did that happen?
Nope!
They've done it all over again in March this year.
They showed the same shallow prejudice immediately young 17-year-old Jonathan Antoine and 16-year-old Charlotte Jaconelli walked onto the stage.
Watch the video below to see what a huge mistake they made.
These two young people, their soaring voices –  and their friendship – are indeed beautiful.
It may just bring a tear to your eye as it did to mine. :)