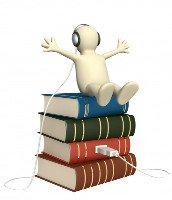 I've always loved having books read to me.
When libraries first started lending books on audio cassettes, I was one of the early adopters. It was wonderful to be able to kick back, relax and listen. Perhaps especially when I was in the car.
With stories to keep me company, long trips were a breeze. Peak hour traffic when the freeway was a car park? No problem!
Catching every red light on the way? No hassle at all – it just meant I'd get through another chapter.
So it was a very natural next step when I could borrow downloadable audio-books from the library and listen to them on my Android phone instead.
But, once upon a time, if you'd suggested I'd start reading e-books on my phone, I'd have laughed. After all, nothing could replace the ease and enjoyment of holding a real book in my hands. And reading on a small screen? That would be a total pain – no way I'd do it!
I was wrong!  :)
Over the last six months or so, I've discovered the wonder of e-books. So much more convenient than carting paperbacks or hardbacks around with me! And as for reading on the small screen, I've not found it to be a problem at all. Quick taps to turn the pages, a back-lit screen so I can read easily in dim light – even bookmarks saved so I can go back to particular passages if I want to. Easy-peasy!
Of course, through the library and other online stores, I've discovered many new books to enjoy. But thanks to online sources such as the Gutenberg Project, where out-of-copyright books are available free – as well as my library – I've been re-reading old favourites as well.
With Gene Stratton Porter, I've wandered the beautiful Limberlost once more with Freckles and Elnora (The Girl of the Limberlost).
I've dipped again into the wonderful Andrew Lang's Fairy Books, stories I loved as a child. I've not read them all – just some of those I remember best.  Many with those fabulously awful endings where the wicked stepmothers and witches get their just desserts.
SO much more graphic and gruesome than some of the more modern and watered-down versions – I think that's one of the reasons I loved them so much as a kid.  :)
I've re-read Alan Garner's The Weirdstone of Brisingamen and The Moon of Gomrath, following the adventures of Colin and Susan as they battle evil witches and wizards with the help of Cadellin Silverbrow, Angharad Goldenhand and the elves.
I've even spent time again with Oscar Wilde's The Happy Prince and Other Tales, and some of Hans Christian Anderson's fairy tales, such as Thumbelina and The Little Match Girl.  I had forgotten just how sad many of those stories are! Though I do remember shedding tears over them as a child, I didn't realise they'd still have the power to move me as an adult.
And it's not just the remembered paths of childhood I've explored.  Some of the stories I've revisited were those I read in later years.
For example, another old favourite that has delighted me all over again is the classic Flowers for Algernon by Daniel Keyes. And I have to admit this story can still bring a lump to my throat too! :)
I've also travelled through time to different planets again with C.S Lewis's 'space trilogy' , Voyage to Venus, Out of the Silent Planet and That Hidden Strength, which were in part inspired by conversations he had with J.R.R. Tolkien.
And I've adventured once more through the glorious English countryside with Hazel, Fiver and all the rest in Watership Down, by Richard Adams. This actually wasn't an e-book but another audio-book – the story and all its characters beautifully rendered by the rich voice of narrator (and actor) Ralph Cosham.
So audio-books and e-books have got me reading regularly again and I've had a wonderful time.
At the end of a tiring day's work, I've curled up on the couch – though with my Android instead of a paperback.  I've been able to find myself a quiet space amid the hurly-burly and bustle of life's hectic pace.
I've discovered new authors to enjoy, explored new horizons – and found a new way to spend time with old friends. :)