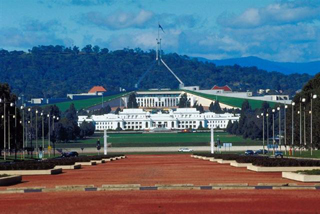 It has begun.
The pre-election assault on my letterbox. The daily pile of papers,  pamphlets, postcards and letters from politicians.
A daily dose of party-platitudes and puffery, of promises and more promises.
Many of which will later become, if all previous elections are anything to go by, promises broken because they were not 'core' promises. :)
This time it's the parties in our upcoming Federal election that are producing the onslaught. But the very same thing happens when there is to be a local government or a state election.
As a voter and a citizen, I am not really interested in reading any of this bumph.
Here is what I want from you, my representatives – or potential representatives – at all levels of government:
Please step out from behind the puffery – away from the spin doctors and stylists – and tell me who you really are as a human being.
Don't just give me the party line. Tell me what moves you. What is your passionate vision for a better community, a better country or a better world? Help me see it and hear it so I can share it.
Don't tell me what your opposition is doing wrongly – I'm tired of the mud-slinging and name-calling that pretends to be political debate.
Give me your honesty and take the risk of being truly transparent about what you believe and what you will try your utmost to achieve.
Listen to my wishes, my dreams and my vision for a better world with an open heart and mind, whether or not you agree with me.
And please show me a leadership style I can admire and respect, so I can offer you my good faith – and my vote.
I realise these things are way outside the power-broking context in which you are often forced to live and work if you aspire to a political position. So, if you will do these things for me, here is my commitment in return to you:
I will understand you are juggling an impossible number of directly conflicting desires and demands from your constituents.
I will accept that, whatever it is I am wanting you to do, there will be equally passionate voices in my municipality, state or country asking you not to do that very same thing.
I will honour the fact that, as a fallible human being just like me, you are nevertheless doing your very best each day to create an even better world for all of us to live in.
I will respect your honesty and transparency, even if I don't happen to agree with you on any particular issue.
I will listen with an open mind and heart to all you have to say, and will not judge you for any stumbles you make as you navigate the incredibly difficult maze you have entered.
And if I meet you in any public forum, I will not bombard you with accusations or demands then blame you derisively for 'ducking and running for cover'. Because I know I would also be likely to run away from such an attack! :)
If we can both agree to these things, we'll no doubt be changing the face of politics as we know it.
And perhaps … just perhaps … we can start having real conversations and genuinely start working together to make a positive difference in this world.