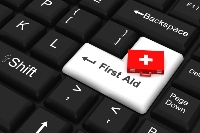 Surfacing from the catastrophe of last weekend (you can read about it in my previous post Computer Blues) when our web host's server crashed beyond repair, I've had a chance to reflect on some of the lessons I learned from the experience.
They may hold a few gems you'll find superbly useful. Perhaps you'll simply laugh at my naivété and muddled approach. Or you may even be horrified, to think anybody managing websites could be so unprepared for a crash of such major proportions.
But whether they make you goggle, giggle or groan, I hope you'll enjoy reading them.
Oh … and if  I'd learned the first lesson properly before this, I probably wouldn't have learned most (though not all) of the others. I wouldn't have needed to! ;)