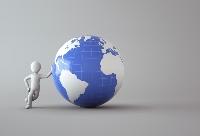 [Another 'rescued' post – re-created from memory :) ]
After writing my post The Magic and Music of Place Names, in which I mentioned Lucky Starr's version of I've Been Everywhere, I found a few more fascinating snippets about that particular song.
I found there's a guy called Peter Harris, who planned a whole trip around Australia based on visiting all 94 places it mentions!  You can read about his travels on his website, complete with photos of the places he visited.
And, as Peter says:
This blog is a record of the visit to each of the 94 locations, and I DID IT! All 94 places in 18 months, over 30,000km!
He also used his trip as an opportunity to raise money for the Fred Hollows Foundation  – and by September 2011 had raised over $3,000.
Way to go, Peter! :)
I also discovered there are a number of different versions of the song, adapted for different parts of the world.  Not long after Lucky Starr recorded it in Australia, Hank Snow wrote lyrics with place names from the United States – a version that Johnny Cash also recorded.
On Peter Harris's website you can read lyrics for yet more renditions. For example there's one for New Zealand, created in 1966 by John Grenell , and another for Texas written by Brian Burns.  Wikipedia lists even more – including one for Czechoslovakia!
And finally, over forty years later, here's a modern example showing just how well the song has survived the test of time.  It's one for online gamers – a World of Warcraft version!