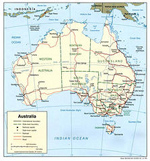 [This is a re-write of a post originally published here a couple of weeks ago, then lost beyond recovery because of our disastrous server crash. Because of Lauren's kind words I've done my best to coax my original muse out of hiding and reproduce the post. It's not exactly the same, but I think I've captured it much as it was. :) ]
Place names around the world have always fascinated me. Some can be particularly quirky, others are an accurate or sometimes wry description of local geography. Still others may simply be music to the ears when you say them aloud.
Australia is no exception – we have our very own collection of magical, musical or just plain quirky place names.
I've always been fond of Ferntree Gully the name of the suburb in Melbourne where I live. But there are other names far more unusual and fascinating – many of course drawn from Aboriginal languages.
One of the latter is actually the longest official place name in Australia: Mamungkukumpurangkuntjunya Hill in South Australia. Apparently it means "where the devil urinates" in the local Pitjantjatjara language.
Imagine being able to say you live in Success … What a wonderful thought! There are people in Western Australia who have that advantage. And there are folk in Tasmania and South Australia who are able to say "I come from Nowhere Else…"  Yep – we actually have TWO of those!
The only place in Australia that begins with X is Xantippe in Western Australia. Apparently a name given to the place because of its rock-hard, granite ground in which it was almost impossible to dig post holes. Xantippe was the name of Socrates' wife – who was supposedly a very hard woman. :)
Then there's Sheoak Log, also in South Australia. Though I assume local residents don't crawl out from under a log. ;) And in New South Wales or Western Australia, you can go for Broke.
In South Australia, some folk live in Foul Bay or Coffin Bay. Though I think if I lived in one of those I'd be tempted to move … Perhaps to Wineglass Bay or even Egg and Bacon Bay in Tasmania? Hmm … then again, for some Tasmanians home is a Dismal Swamp or The End of the World.
Queensland can boast a Banana, a Humpybong, a Wonglepong and a Pimpinbudgie. New South Wales has Jimcumbilly, Burrumbuttock, Come By Chance and Tom Ugly. In Victoria there are Cardigan, Manangatang, Mangalore, Upotipotpon and Tittybong – the last just north of Teddywaddy. And if you live in the Northern Territory you may come from Boing Boing or Humpty Doo!
But perhaps the most musical collection of Aussie place names is the song I've Been Everywhere, written by Geoff Mack in 1959. It was recorded by Lucky Starr in 1962 and became almost an instant cult classic. Here it is … and here are the lyrics as well, in case you'd like to follow along. :)