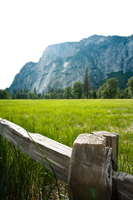 Why is it that 'sitting on the fence' is so often considered a bad thing? When people talk about someone who is doing so, they often speak with a curl of the lip, a raised eyebrow, a roll of the eyes or a sigh of resignation.
It seems we're always supposed to draw a conclusion, reach a decision, take a stand or choose a side.
But let's face it, from the top of a fence you can see the horizon in all directions. You get a good overview of all the fields or gardens within viewing distance. Jump off that fence, and part of your view is obscured.
One of my favourite poems is by Michael Leunig:
Come sit down beside me, I said to myself.
And although it doesn't make sense,
I held my own hand as a small sign of trust
And together I sat on the fence.
To me, this speaks volumes about the inner confusion and division that can happen when we're trying to resolve two (or more) ways of seeing or being in the world. But it also speaks about a need to trust the process.
Not everything has to be an either/or issue and we don't always have to resolve every division. It's ok to 'hold our own hands as a small sign of trust' and stay right where we are – sitting on the fence. It's a great spot from which to scan the horizon for those elusive both/and ideas.
So if there's an issue for you in which the jury is still out, come and join me on the fence.
The view's pretty good from up here! :)