(Note: This is now an old post, as you will see from the WordPress version mentioned. I am not sure how well these steps will work with more recent WP upgrades. We also changed to FD Feedburner plugin rather than Feedsmith and no longer use individual category feeds.)
I've been working today on re-organising and configuring my partner Chris's blog, Chris Chats. He needed RSS feeds set up for individual categories – and I learned that this is NOT an easy thing to do if you are using Feedburner, as we are!
I'd set up Feedburner and Feedsmith for both our blogs – which are self-hosted installations of WordPress 2.7. This was a relatively painless process that worked very well for the main blog feed and comment feed.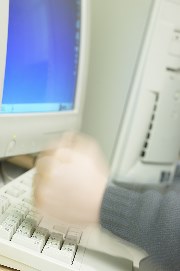 However, as we then found, Feedburner & Feedsmith don't 'play nice' in the sandbox with WordPress if you want separate feeds for different blog categories or tags. Every feed must be individually set up in Feedburner – and at first I just couldn't get this to work at all!
Extensive web searching, lots of WordPress tweaking, much growling and many 'DUH!' moments later, I finally worked it all out, and the new system is now operational.
In case the tips and steps I learned along the way are handy for any other newbie bloggers like Chris and myself, who are also using Feedburner, I thought I'd share them here.
Click on "Permalinks" in the WordPress admin area and change this to one of the available settings.  The default WordPress setting doesn't use permalinks and URLs look like something like this: http://chrischats.com/?p=34  These links won't work to create feeds in Feedburner – each category requiring its own feeds needs its own permanent URL – 'permalink' in WordPress.
Check out Using Permalinks on the WordPress.org website. This was the most useful resource I found to explain how the permalink structure works and how to make relevant changes. I chose the setting /%category%/%postname%/ which was recommended on several sites.
If you already have one permalink setting in WordPress (as I did in my own blog), and wish to change to another without breaking all the links you have so enthusiastically shared elsewhere on the web, the Redirection plugin is a must-have. :)
After establishing a suitable permalink structure for your blog, visit the category page(s) on your blog for which you need to create a feed. Copy the URL and enter it into Feedburner with /feed added to the end. For example, using the above permalink setting, Chris's category for his Tai Chi Posts became http://chrischats.com/category/taichitips/  which I then entered into Feedburner as http://chrischats.com/category/taichitips/feed
Install this Feedburner Feedsmith plugin, which includes a fix that allows configuration of individual category feeds within WordPress itself. A process that's easy for non-techies, such as myself – particularly when compared with the various .htaccess or .php modifications I read about elsewhere. :-)
Grab the category feed link that you created in Feedburner, return to the  plugin in WordPress, and enter that URL against the relevant blog category.
Finally, you may like to consider either the Category Specific RSS Feed Subscription plugin or the Extended Categories widget. There may be others out there, but I found either of these worked very well to provide the list of category specific rss feeds in the widget sidebar.
Voila! All done, dusted and hung out to dry. And that's easy for me to say … now! :-)